HM Capital Denver Real Estate Development Update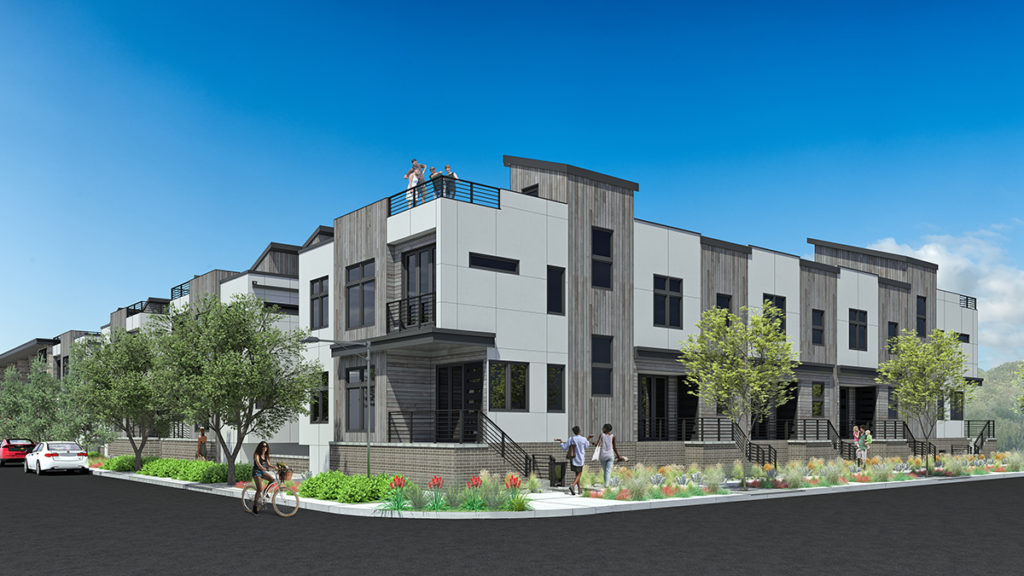 Our job as a Denver real estate developer is to research and determine viable real estate developments in Denver. We are always updating and innovating our unique development process. If you're interested in construction progress at our Denver real estate developments or just want to stay in the loop with our current and new developments, continue reading and/or sign up for our monthly newsletter!
Block Forty45
Block Forty45, our mixed-used development in the Sunnyside community, has been continuing to progress right on schedule. Our first floor retail and coworking offices have been up and running since mid-2018 and continue to house local Denver small businesses, start-ups and contractors in a professional work environment. The townhomes, Forty45 Row, are now all officially completed and Phase I is entirely leased. We are currently renting out phases II and III of the 3-bedroom townhomes, starting at $3,030/month. These high-end townhome units are perfect for renters looking for a high-quality home in a great location just outside downtown. The townhomes are also great for businesses that are bringing new employees to Denver and need to provide quality housing.
Park Hill Commons
Construction on the Park Hill Commons mixed-use real estate development is moving along as quickly as planned. The FairFax Row townhomes will be completed in early March and have already started leasing Phase I. Park Hill Coworking is scheduled to open in May and already has plenty of interest and a few signed leases. All large bottom-floor retail spaces have been leased and micro retail spaces have been continuing to generate a lot of interest. The Studios are just beginning development and will be completed late summer 2020.
eVelo
We recently launched eVelo, a full-service property management firm that owns and operates all of our properties. eVelo will help streamline all operations of our assets and make the leasing experience and property management services more efficient and enjoyable for all of our tenants. We are very excited about this new service and believe eVelo will create efficiencies in all aspects of our business including new projects and upcoming investments.
Interested in learning more about our Denver real estate developments and projects? Visit our website or contact us and let's talk!